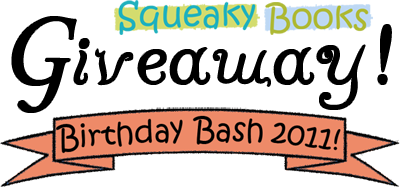 I'm hosting a contest as part of
Enna Isilee's Birthday Bash 2011
Presented by Squeaky Books
From August 22nd until September 22nd Enna Isilee at Squeaky Books is having a HUGE bash to celebrate her birthday! There's a giveaway nearly EVERY DAY, tons of author interviews, and guest posts from a bunch different YA book bloggers. And I get to host a contest!
I get to give away an ARC copy of Dark Eden by Patrick Carman! Entering is simple, just fill out the form (with optional bonus entries). You have until September 21st at 11:59 MST to enter. All winners will be announced on Enna Isilee's birthday (September 22nd) on Enna Isilee's blog (Squeaky Books). Giveaway is open to US only. And today, Ennalee interviewed Patrick at Squeaky Books. You should totally go check it out.
Want to know more about Dark Eden? Click here!
Without further ado, enter to win! Click below.
DARK EDEN
by Patrick Carmen
Fifteen-year-old Will Besting is sent by his doctor to Fort Eden, an institution meant to help patients suffering from crippling phobias. Once there, Will and six other teenagers take turns in mysterious fear chambers and confront their worst nightmares—with the help of the group facilitator, Rainsford, an enigmatic guide. When the patients emerge from the chamber, they feel emboldened by the previous night's experiences. But each person soon discovers strange, unexplained aches and pains. . . . What is really happening to the seven teens trapped in this dark Eden?

Patrick Carman's Dark Eden is a provocative exploration of fear, betrayal, memory, and— ultimately—immortality.
ABOUT THERESA (a.k.a. Fade Into Fantasy): As a part time book store employee, editing intern, and the mastermind behind BLB Book Tours, Theresa is able to surround herself with her favorite things, BOOKS. When she isn't working, learning, or attending her sons' sporting events, she's lost between the pages of a paranormal novel. Her hope is to someday earn a living editing books, but until then she's happy to help spread the word about the fabulous books and authors she encounters along the way.